F&M Mobile
Access your account from anywhere with the F&M TouchBanking Mobile App! It is a convenient and secure way to manage your accounts.
TouchBanking Features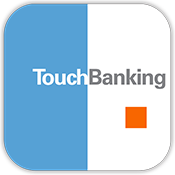 24/7 Access
Monitor your account balances
View transaction history
Pay bills with Bill Pay
Deposit checks
Transfer funds
Once you sign up for F&M Online, download our free TouchBanking app to make managing your accounts even easier.
Available on the App Store or Google Play.
IMPORTANT! After you download the TouchBanking application, you will need to enter this App Code to activate it for our bank.
Then you will enter your USER NAME, answer your security question, then enter your password.
You must be an F & M Online customer before you can sign up for Mobile Banking. If you are currently not an F&M Online customer, please contact a Customer Service Representative at 515-462-4242.